Lexington Law Firm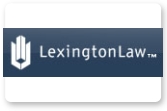 The nation's leading credit repair firm, helping consumers since 1991

Affordable credit repair services

Over 7,000,000 negative items removed in 2014

Call us for immediate help: 1-855-255-0043
More Info
| Credit Reports | Credit Scores | Free Trial | Fee | Credit Monitoring |
| --- | --- | --- | --- | --- |
| | | | | |
Creditnet's Full Review
The nation's leading credit repair firm. Serving over 1/2 million clients since 1991
Affordable credit repair services from a respected firm
Over 7,000,000 negative items removed in 2014
If you're looking for a law firm that specializes in credit report repair, take a closer look at Lexington Law Firm. They help improve credit scores by removing inaccurate, misleading, or unverifiable information from credit reports and have helped over 500,000 Americans and deleted over 7,000,000 items in 2014 alone.
Lexington Law Firm offers consumers a performance warrantee. Lexington Law has experience dealing with such scenarios as bankruptcies, charge-offs, tax liens, and more.
Start your journey to good credit by contacting Lexington Law Firm today!  Contact us online or call us directly at 1-855-255-0043.
Offer details may have changed since the last update of the information on this page. Please see Fees, Terms & Conditions for updated and complete information.