Capital One® Cash Rewards
Capital One® Cash Rewards Summary
50% bonus on the cash back you earn every year

1% cash back on all purchases

Earn unlimited cash back that doesn't expire
Creditnet's Full Review
The Capital One® Cash Rewards card is a cash back credit card for people with average credit. This card does have an annual fee of $39, so if you plan to charge at least an average of $217 per month to this card (totaling roughly $2,600 annually), you're going to earn more than the annual fee in cash back rebates. Here are the details of this card offer:
50% bonus on the cash back you earn every year
1% cash back on all purchases
Earn unlimited cash back that doesn't expire
Redeem cash back anytime for any amount, even set automatic redemptions
Personalize your card with an image of your choice
0% intro APR on purchases until February 2014
Earn cash back on every single one of your purchases. Whether you're shopping online, in your neighborhood grocery store, or at a market halfway around the world, you'll earn 1% of your purchases in cash back rewards.
Pay no interest on all your purchases until February 2014. As long as you continue to pay at least the minimum amount due each month by the due date, you'll pay no interest on your remaining credit card balance until February 2014.
Anniversary bonus earns you an additional 50% more in cash back each year. On your anniversary statement each year, Capital One gives you an additional 50% more in cash back on what you've already earned that year. So if you've earned $60 in cash back rebates, Capital One will give you an additional $30 as an anniversary gift, bringing your total rebates to $90!
Rewards are unlimited and have no expiration date. There are no caps placed on the amount of cash back rewards you can earn on this card. And accrue your rewards for as long as you want, as there are no expiration dates on your rewards; they're yours after you earn them as long as your account is open.
Redeem your rewards for a statement credit*. This is the quickest way to receive your rebate. Simply call the toll-free Rewards Center number or go online to request your redemption and the credit will appear on your statement in 5-7 days.
Redeem your rewards for gift cards or a check*. If you'd rather physically hold and use your cash back rewards, then request a gift card or check. It will be mailed to the account holders' mailing address within 30 days of your request.
Redeem your rewards with minimal effort. Simply set up a threshold amount and you'll receive your cash back automatically.
Make this card unique by personalizing the card's image. Use any picture to truly personalize your card, whether it's a picture of the newest addition to your family or of the upcoming beach vacation that's your motivation to eat healthy.
* In order to redeem rewards, your account must be in good standing. This means it cannot be past due on payments, over the credit limit, restricted or fraudulent, or part of a bankruptcy settlement or credit counseling program.
Creditnet's Expert Rating & Review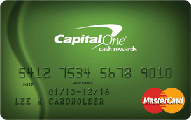 Favorite Card Features:
No interest on purchases during the introductory period combined with 1.5% cash back (including the anniversary bonus).
Least Favorite Features:
Higher APR than other cash back cards because this card is for people with average credit. If you pay your balance off in full each month after the promotional no interest period has ended, then you'll never even feel the high APR.
Our Final Take:
The Capital One® Cash Rewards is a good card if you're serious about improving your credit and would like to earn cash back along the way.
Offer details may have changed since the last update of the information on this page. Please see Fees, Terms & Conditions for updated and complete information.
Purchase Rates

| | | | |
| --- | --- | --- | --- |
| Intro APR: | 0.00% | Credit Required: | fair |
| Intro Period: | until February 2014 | Set Up Fee | $0.00 |
| Ongoing APR: | 19.8%* (V) | Annual Fee | $39 |
| Penalty APR: | 29.4% | | |
Balance Transfer

| | |
| --- | --- |
| Intro APR✝: | N/A |
| Intro Period: | N/A |
| Ongoing APR: | 19.8% (V) |
| Penalty APR: | 29.4% |
| Transfer Fee: | 3% of the amount of each transfer through your 04/2014 billing period. |
| ✝ Must initiate transfer: | N/A |
Cash Advance Rates

| | |
| --- | --- |
| Ongoing APR: | 24.9% (V) |
| Penalty APR: | 29.4% |
| Advance Fee: | Either 3% of the amount of the cash advance, but not less than $10 |
Miscellaneous
Other Rates
Foreign
Transaction Fee:
0.00%
Min. Interest Charge:
$0.50
Credit Line
Min:
See Terms
Max:
See Terms
Penalty Fees
Late Payment:
$15-$39
Over the Credit Limit:
$19-$39
Returned Payment:
Up to $35.00