Barclaycard® Rewards MasterCard®
Barclaycard® Rewards MasterCard® Summary
2X points on gas, utility and grocery store (excluding Target® and Walmart®) purchases. 1x points on all other purchases

No annual fee

Points don't expire as long as account is open, active and in good standing

Redeem points for deposits to a U.S. checking or savings account, statement credits or gift cards, starting at 1,000 points for $10

No limit on the number of points you can earn or redeem

Free online access to FICO® Credit Score lets you keep an eye on your credit and get alerts when we learn that your score has changed

Use your card with confidence, $0 Fraud Liability protection means you're not responsible for unauthorized charges you report to us

Chip card technology, so paying for your purchases is more secure at chip-card terminals in the U.S. and abroad
Creditnet's Full Review
Issued by Barclay's Bank of Delaware, the Barclaycard® Rewards MasterCard® gives cardholders the opportunity to earn unlimited rewards.  You one point per $1 you spend, and double (2x) points on gas, grocery and utility purchases! 
Redeem your rewards like cash to pay for virtually any purchase you make to your card – and with monthly reporting to all 3 major credit bureaus, the Barclaycard® Rewards MasterCard® gives you the opportunity to build your credit history as well.
Creditnet's Expert Rating & Review
by Joshua Heckathorn on April 4, 2016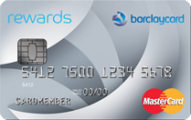 Favorite Card Features:
We love a no annual fee cash back card that can help consumers with average credit improve their FICO scores.
Least Favorite Features:
Nothing to really dislike here, other than a fairly high interest rate. Pay your balances in full folks!
Our Final Take:
This is one of the best credit cards for average credit available today. This card offers a little bit of everything, and it is an especially worthwhile choice for average credit consumers hoping to finally earn some cash back for their credit card purchases.
Offer details may have changed since the last update of the information on this page. Please see Fees, Terms & Conditions for updated and complete information.
Purchase Rates

| | | | |
| --- | --- | --- | --- |
| Intro APR: | N/A | Credit Required: | fair |
| Intro Period: | N/A | Set Up Fee | N/A* |
| Ongoing APR: | 25.24* Variable | Annual Fee | $0.00 |
| Penalty APR: | N/A | | |
Balance Transfer

| | |
| --- | --- |
| Intro APR✝: | N/A |
| Intro Period: | N/A |
| Ongoing APR: | 25.24% (Variable) |
| Transfer Fee: | 3% of each balance transfer; not less than $5 |
User Reviews
Average user reviews
Based on 1 review
Barclaycard Rewards Mastercard- Great no annual fee card if you have average credit!
Helpful to 0 out of 0 people
Reviewed on:

Wed, 2016-03-09 17:26
I got this card because it was a no annual fee card with rewards, and my credit just isn't in the great/excellent range yet.  Got approved quickly with a decent credit limit and I've been very happy with the card so far.  
Good card, but unusable due to excessive 'holds' : sadly can't rely on it.
Helpful to 0 out of 0 people
Reviewed on:

Fri, 2014-07-11 19:03
Everything looks good, great website and terrific rewards.. I got a good credit line and this was looking to be my main card.. but.... excessive impacts to use..it was constantly frozen for suspected fraud.. I called to let them know prior to international travel, but still it gets put on hold.. Now you have to call from abroad to clean it up: takes 20 mins.   used it on Amazon : put on hold..called ..apparently due to 'unusual patterns of behavior' : I checked and had purchased 61 items previously on Amazon !!!   I called to complain, CSR's were great and understood and apologized.Made a note in my file.   Bought something one week later on Amazon : yep blocked again. Called to clear it again. Later I emailed their complaint line, and the response was 'sorry you encountered issues, we have placed a temporary hold on yr acct..'  Huh ? Really?    So I picked up the phone and dedicated 1 hr of my life to resolving this and this is what I learned : 1. The agents cannot see your complaints ..different systems and they don't have access.. You can test this ..write a complaint and then call next day..  2. There are two groups..CSR's and security division.. It's a telephone pass thru to move between them, they CAN facilitate this. 3. Security group dish out the 'holds' (they can't see your complaints on the web based email system either) . 4. If you travel and call and tell someone you will visit Albania, they will make a note. 5. But the security team who freeze your account can't see the details , just the travel dates. So they use judgment about where you should or shouldn't be I guess ??  6. They call it excessive impact : the bottom line is that Barclay are responsible for fraudulent use , and they have a very conservative policy : if you work hard, live in one city, and take a weeks vacation a year in Hawaii, this is an awesome card.   but if you want to buy socks in Kosovo next week , or a book in Laos  ..forget it, you'll be on hold until you call some 20 yo in Nevada. thx nick