The NFL Extra Points Credit Card offer is currently not available from Creditnet.com
However the below card(s) are recommended by Creditnet as a great alternative to the NFL Extra Points Credit Card: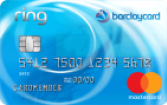 Balance Transfer
0%
0% on balance transfers within 45 days of opening account
Barclaycard Ring® Mastercard® Highlights
Enjoy a 0% intro APR for 15 months on balance transfers made within 45 days of account opening. After that, a variable 13.99% APR will apply
Low 13.99% variable APR on purchases and cash advances
Regular APR
19.99% - 25.99% Variable APR depending upon credit worthiness.
NFL Extra Points Credit Card
The Barclaycard NFL Extra Points Card is more than just a great way to keep your favorite NFL team in your wallet. Plus if you spend a lot of time in the NFL Shop there are a number of ways to earn double bonus points.
Here's what you can expect when you sign up for your favorite team's Barclaycard Extra Points Card...
One-time bonus of 10,000 points. Earn 10,000 bonus points after you spend $500 on purchases, that's redeemable for a $100 cash back statement credit!
One point for all purchases. Any purchases made outside of the NFL shop, the team shop or at the stadium are worth a point per $1 spent.
No cap on points and they never expire. There's no rush to gather or redeem points since they never expire.
Redeem your points for merchandise, game tickets, once-in-a-lifetime experiences or cash back statement credits. There are a lot of ways to redeem your points, but our favorites have to be the NFL-related rewards. 25,000 points will net you two regular season game tickets, 12,000 points will get you a jersey and a modest 2,000 points are the equivalent of a VIP stadium tour. You can even redeem your points on travel purchases with participating airlines and rental car companies.
20% off at the NFLShop.com – Use your Barclaycard Extra Points Card when you're shopping online at the NFL Shop to receive 20% off team merchandise.
Visa Signature Benefits. Finally, you'll also be privy to all of the great benefits offered for Visa cardholders, including zero liability on unauthorized purchases, emergency card replacement and travel accident insurance. Carry your favorite team in your wallet. Choose from one of 32 NFL teams and show off your favorite team's colors every time you make a purchase.
No Annual Fee. To top it all off, this is a no annual fee credit card, to boot. (Pun definitely intended.)