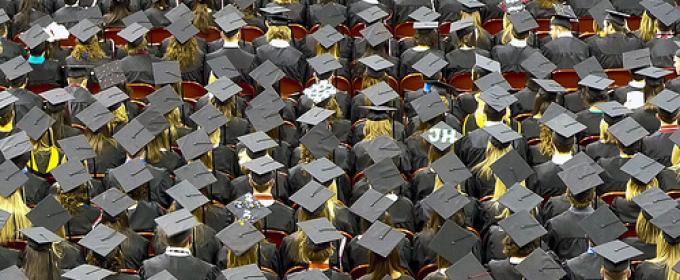 (Update: Some of the credit card offers below are no longer available. For a complete list of student credit card offers available today, visit our picks for the top credit cards for students on Creditnet.com.)
Like a freshman that got lost in the courtyard on the way to class, our list of the best student credit cards fall 2012 is fashionably late to the discussion. However, as mid-terms sneak up on college students in the upcoming weeks, it's not just sleep that students are short of - odds are, they're getting low on funds, too. October is the perfect time to review the best student credit cards because in many cases, promotional rates are still available. Plus, if you didn't have time to properly review student credit cards for your son or daughter at the start of the semester, take a minute now that the dust has settled to review our list of the 5 best student credit cards fall 2012. (Because, let's face it, those meal points are looking pretty thin at this point of the semester.)
And if you hadn't heard, choosing a
Student Credit Card
is more of a family decision than ever since the Credit Card ACT of 2009 requires a parental co-signer or proof of sufficient income for students under 21 years old. With that, here are the best credit cards for students based on our expertise and reader feedback.
Journey Student Rewards ( SM ) from Capital One®
Why We Love It:
1% cash back (What college kid couldn't use cash back rewards?), plus a 25% bonus each month you pay your bill on time. (Don't let them forget this.) Oh, and NO cash back limits.
Track your credit score each month.
Free text and email alerts that remind your student to pay their bill.
No intro. APR and no annual fees.
The Final Word:  This is a great card for students ready to build credit - responsibly. Just make sure they're paying their monthly bill online each month to avoid any interest build-up, the first step towards building and maintaining debt-free credit.
Why We Love It:
Easy reward redemption means you'll receive a check for $50 after you've earned 50 dividend dollars.
Receive 5% cash back on gas, groceries and utilities for the first 6 months. (1% thereafter.)
No cosigner required, and fair credit is OK when applying.
Citi® offers free credit tips and tools, making this a great go-to card for credit first-timers.
The Final Word: This is one of the best student credit cards because of all the cash back opportunities; check out the Citi Bonus Cash Center® for a complete listing of businesses that offer an additional 5% cash back with your Citi® card, plus the Citi® Dividend Platinum Select Card has NO purchase requirements to receive cash back. Thus, college students can earn cash back on just about all purchases, from pizza slices to textbooks.
Why We Love It:
There's no annual fee on this student credit card, plus bad (or no) credit is OK when applying.
Receive $20 after your first purchase (within 3 months of approval).
No interest for 6 months.
Up to 20% in cash back opportunities!
The Final Word: This student credit card is great for college kids because of the excellent cash back opportunities (up to 20% through ShopDiscover®) and lack of credit required for approval. Plus, rewards don't expire and, while you have to enroll for 5% cash back each quarter, there's a lot of potential if you remember to set a date on your calendar and join back in. Again, make sure to reiterate to your college son or daughter that they'll want to pay this student credit card off each month, as APR varies from 12.99% to 24.99%.
Why We Love It:
5x points on the things students are most likely to spend money on: books, movies and restaurants. (Hey, they're gonna' do it anyways - might as well get some cash back points in return.)
1,000 ThankYou Points after signing up for Paperless statements. (Only available in the first three months so make sure to do this immediately.)
Bonus points for responsible credit card usage.
No co-signer necessary. 18+ is A-OK to apply.
The Final Word: The only thing we don't like about the Citi Forward® Card for Students is that they place a cap on points - and with all the ThankYou® points and bonus opportunities available, there are a lot of ways to accrue points. However, there's no annual fee, no co-signer necessary and tons of Responsible Usage Points available, giving your independent college student some great incentives to use this card responsibly and learn the world of credit.
Why We Love It:
2% cash back on up to $250 at gas stations and restaurants every month.
Shop online via ShopDiscover® for 20% cash back opportunities.
$0 in annual fees and 0% interest for nine months.
Tons of ways to redeem your rewards.
The Final Word: Normally we wouldn't be excited for a credit card capping your cash back opportunities at just $250. But really, what college student should (or is) be paying more than $62.50 a week on gas AND eating out? Overall, this is a great card for your average college student so long as they pay off their balance monthly. (Which is really the case with all of the best student credit cards Fall 2012.)
Best New Student Rewards Card - Discover it™ Card for Students
Young consumers new to credit won't find many student cards that offer a more lucrative rewards program than the Discover it™ Card for Students. Earn 1% cash back on all purchases, with no limits and no expiration, and 5% cash back on up to $1,500 in purchases when you enroll. Click the "Apply Now" button for details, terms and conditions.