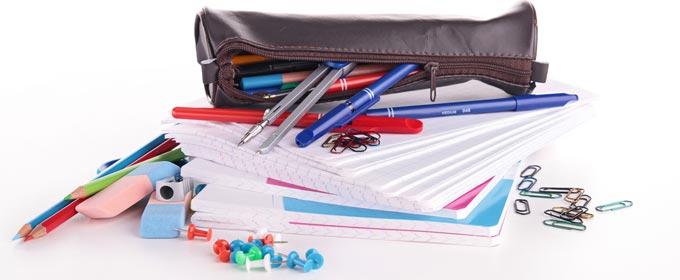 While the days of summer get a little shorter and that school supply list gets a little longer, here's five
credit cards
that will help you save on those inevitable back-to-school expenses.
Blue Cash Preferred® Card from American Express
This card is ideal for the family looking to wipe out most of their back-to-school shopping during their normal trip to the grocery store. Supermarket purchases will get you six percent cash back on up to $6,000 while you save three percent on the gas that got you there. With another one percent coming back to you for all other purchases, you'll save if you can't find those Ticonderogas next to the tomatoes.
This card does have a $75 annual fee, but saving big in the two categories that hit most families the hardest more than makes up for it.
For the student with no
credit history
, this is a great incentive-laden way to learn how credit cards work.
Target REDcard®
Most retail stores have their own credit cards, but no one has quite as good of a deal in the cash back department as the Target REDcard®.
A whopping five percent rewards on every target purchase will have you noticing your wallet a little heavier right away. Forget something at the store? Use your REDcard® online and receive free shipping. Those three-ring binders not the one you had in mind? An extended 30-day return policy for card members.
Not only are you helping your own situation, but you could be helping your school. Choose your child's eligible K-12 school and Target will donate one percent of all your purchases directly to them.
TrueEarnings® Card from Costco and American Express
If you're a Costco member, but don't like paying the AMEX annual fees, look no further. The TrueEarnings® Card is the best of both worlds.
After earning one percent
cash back
on all purchases including Costco, you'll save on driving little Johnny to school every morning with three percent at all gas stations including Costco gas up to $4,000. 
Other perks include two percent cash back at restaurants and on eligible travel purchases.
Discover it®
If you're in the business of transferring a balance before you get covered in finger paint, the Discover it® Card will help you do just that.
A zero percent 14-month intro APR along with zero percent interest on all new balance transfers will have you paying off your debt and filling that back pack up simultaneously. And did anyone say fees? No, no one said fees, because there are none. No annual, overlimit, foreign transaction or late fee on your first late payment.
A generous five percent cash back up to $1,500 spent rotates through different categories quarterly, helping you save in more than one spot. 
So whether you've slowly been checking off items on that list all summer, or you're ready to make the mad dash with all the other procrastinators, any of these cards will help alleviate that back-to-school head ache...at least a little bit.